Don't throw out your leftover french fries! Make this leftover french fry breakfast skillet and breakfast is ready in no time.
How do you get leftover french fries crispy again?
Simply use a cast iron skillet. That way the leftover french fries start to cook and crisp up as the eggs start to set.
Here's what the crust looks like – nice and crunchy!
While this was delicious, I have to say – Tony's eggs are way better than mine! Maybe because they are made with love.
If you love savory breakfasts, check out these breakfast casserole muffins – yum!
I was a pretty busy beaver yesterday. I ended up doing my meal plan for the week, shopping list and blog schedule. I think it's time to clean my desk again – so much crap accumulates on it!
I left the house, went to vacuum my car, went to the Dollar Store to stock up on more tupperware, went to Bed Bath & Beyond and bought a new muffin tin, then went to the grocery store. I love using my cash from the restaurant to pay for groceries – makes me feel like I don't spend actual money on food. I know that sounds weird! Not bad yesterday – $78!
While I was out I got the cutest snapchat from my step-son Joe – how cute are their dogs?!
I have to send some link love to Kim – she posted her recent meal plan this week now that her kids are back in school after spring break and t-ball season starts. One of the coolest ideas she had was to make oven tacos! That way you can portion out all the meat and cheese and everyone can eat at the same time – just add the desired toppings. Awesome idea Kim!
I am actually on my way to the Outpatient Pavilion on my way to work this morning. At my last diabetes appointment I was supposed to have a fasting blood test done, and I didn't know it, so I have to run and get my blood drawn before work. It's always a good idea to know what your numbers are. I've only put it off for four weeks – yikes!
It's rainy and cold today – blah – oh well, it's Monday, what can you expect? Make it a great day!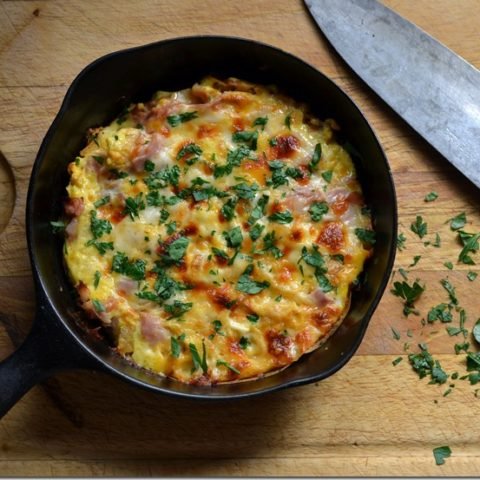 Leftover French Fry Breakfast Skillet
Always bring your french fries home! Then you'll be able to make this leftover french fry breakfast skillet. You're welcome!
Ingredients
Leftover French Fry Breakfast Skillet
1 teaspoon olive oil
2 ounces of leftover French fries, chopped
2 eggs
1/4 cup milk
1 tablespoon hot sauce
pinch of salt and pepper
2 ounces chopped deli ham
1/2 ounce Cabot extra sharp cheddar cheese
parsley for garnish after it comes out of the oven
Instructions
In a 6 inch cast skillet, pour the olive oil and spray avocado oil spray and put over medium heat. When it starts to get hot, add the French fries to the skillet and press down with a spatula. Mix the eggs, milk, hot sauce, salt, pepper and deli ham together. Pour that mixture over the fries, then add the shredded cheese. Bring temp down to medium low and put a lid on the skillet, and cook for about 6-8 minutes, or until the eggs are set. Heat broiler on high. Let the cheese get all bubbly and nice. Using a knife, run the knife around the side of the pan and it will release the bottom. Sprinkle with fresh parsley and breakfast is done!
Notes
To track this directly to your WW app or check the points for your plan, please click here!
Nutrition Information:
Yield:

2
Serving Size:

2
Amount Per Serving:
Calories:

437
Total Fat:

24g
Saturated Fat:

6g
Trans Fat:

0g
Unsaturated Fat:

16g
Cholesterol:

207mg
Sodium:

716mg
Carbohydrates:

39g
Fiber:

3g
Sugar:

2g
Protein:

17g
Let me know if you make this Leftover French Fry Breakfast Skillet!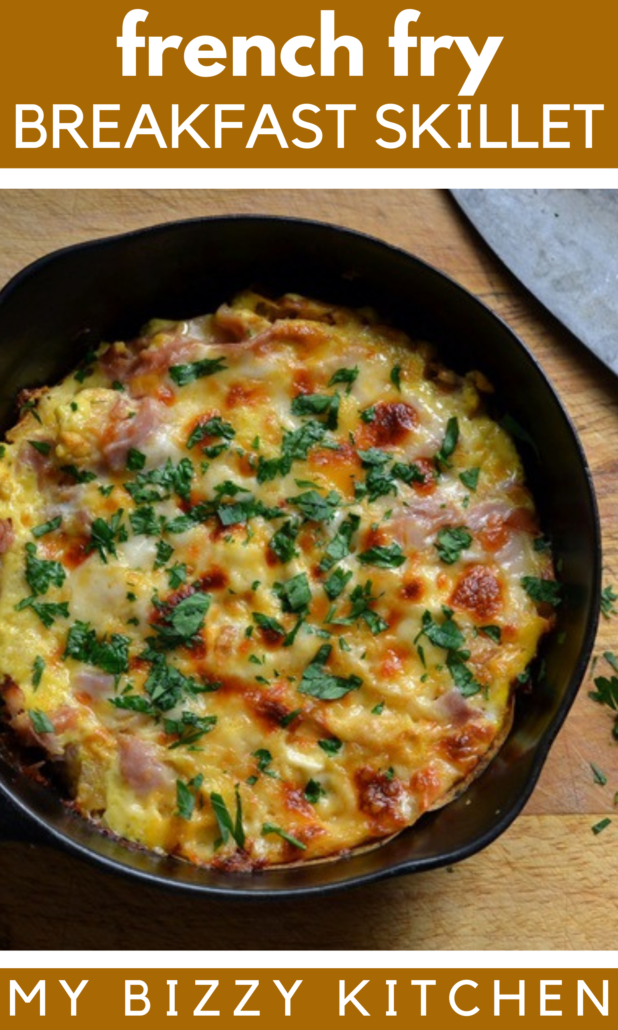 [web_stories_embed url="https://mybizzykitchen.com/web-stories/leftover-french-fry-breakfast-skillet/" title="Leftover French Fry Breakfast Skillet" poster="https://mybizzykitchen.com/wp-content/uploads/2022/03/cropped-breakfast-skillet-640×853.jpg" width="360″ height="600″ align="none"]