If you think you don't like beets, try my roasted beet hummus – it's the perfect balance of sweet and savory!
Ingredients Needed for Beet Hummus
fresh beets

canned chickpeas

garlic cloves

tahini

crushed red pepper

vinegar (any will do!) I used rice wine vinegar for this recipe

salt

aquafaba – which is the liquid from the canned chickpeas – so don't throw this out when draining the can of chickpeas!
Is Beet Hummus Healthy?
According to Healthline, beets "can support the health of your brain, heart, and digestive system, are a great addition to a balanced diet, boost athletic performance, help alleviate inflammation, and possibly slow the growth of cancer cells. Best of all, beets are delicious and easy to include in your diet." Beets are also only 58 calories per cup.
How long do you roast beets?
The air fryer stood in for my oven today, just because it was nearly 80 degrees when I made this. Even though I cut my beets into smaller pieces, it still took 60 minutes at 360 degrees until the beets were fork tender. You can also boil beets for 30 minutes, or until fork tender.
Do you peel beets before or after cooking?
Personal preference wins on this one, but I liked peeling it before cooking, because then I could go straight to the air fryer to my food processor. Many people online cook it with the skin on, and apparently the skin peels right off. This was super easy to peel though.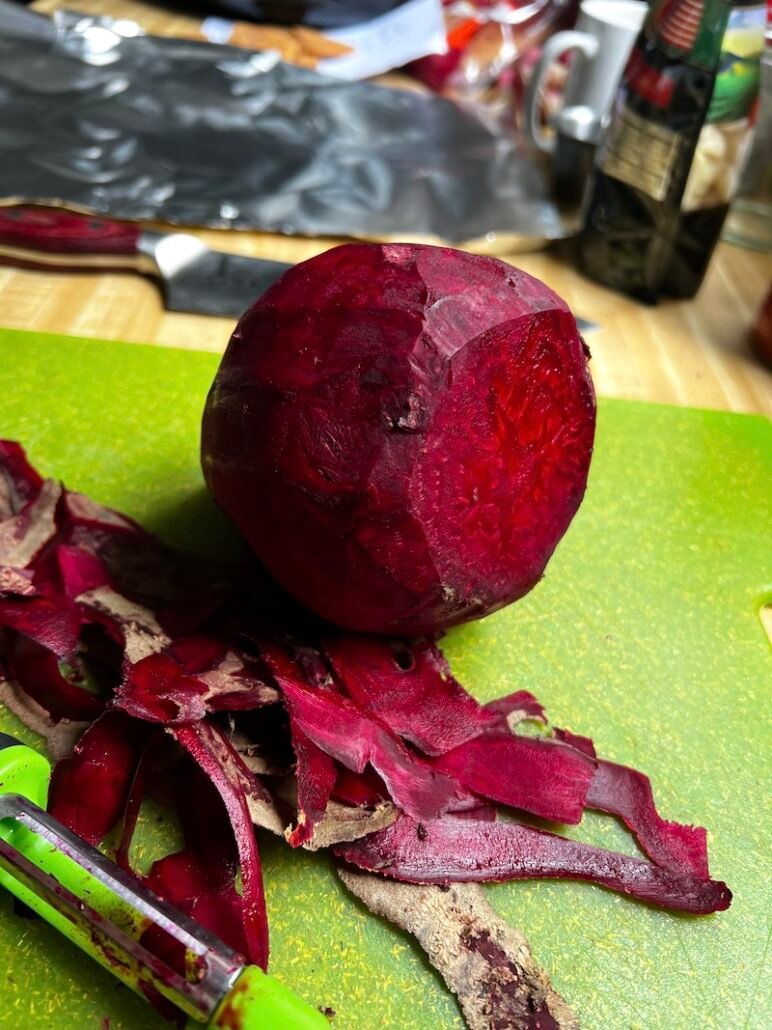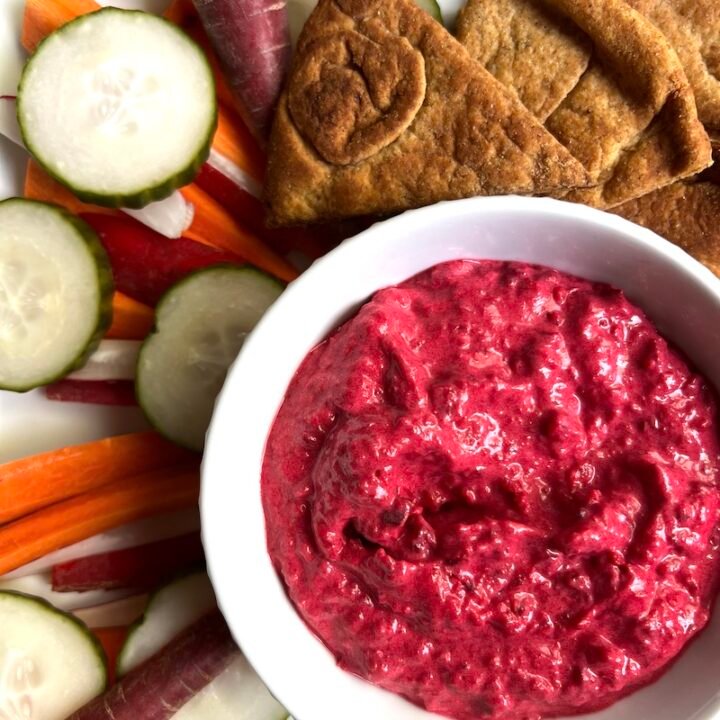 Roasted Beet Hummus
Yield:
8 servings, 1/3 cup per serving
Total Time:
1 hour
5 minutes
If you think you don't like beets, try this hummus. The sweetness is cut with a bit of crushed red pepper and vinegar for the perfect balance of sweet and savory.
Ingredients
1 large beet (about 10 ounces)
8 cloves garlic
1 can chickpeas, drained (reserve liquid)
5 tablespoons tahini
4 tablespoons rice wine vinegar (any vinegar works - apple cider would be great!)
1 teaspoon crushed red pepper
1 teaspoons salt
Instructions
Peel beet(s) and slice into chunks. Add the beets and garlic to foil and wrap, and air fry for 60 minutes (or less depending on your air fryer - you want them to be fork tender.
Add all the ingredients to a food processor, adding as much liquid from the canned chickpeas to get the desired consistency - I used 1/2 cup. I like my hummus really smooth so I processed for 5 minutes on low.
That's it!
Nutrition Information:
Yield:

8
Serving Size:

1
Amount Per Serving:
Calories:

109
Total Fat:

6g
Saturated Fat:

1g
Trans Fat:

0g
Unsaturated Fat:

5g
Cholesterol:

0mg
Sodium:

351mg
Carbohydrates:

11g
Fiber:

3g
Sugar:

2g
Protein:

4g
The verdict?
I love this hummus!! The balance of the beets with the vinegar and crushed red pepper is a winner in my book. This would be great on avocado toast, as a dip for fresh cut veggies – the possibilities are endless!
The only other recipe I have with beets is a video I did making BEET SAUERKRAUT BISCUITS which are delicious! You can check out that video here.
If you want to check out the blog post from the first time I posted beet hummus, you can check that out here. 😁