These birthday cake donuts turned out so good!
Baking is not my forte, so I looked at a bunch of recipes online to find baked donut recipes.
Many of them had yeast and required a slow rise overnight in the fridge, and I wasn't about that life.
Ina Garten had a recipe that was more of a "batter" but when I saw that her 12 donuts had 1 3/4 cup sugar, and a stick of butter, I dramatically altered her recipe.
So thanks for the inspo Ina!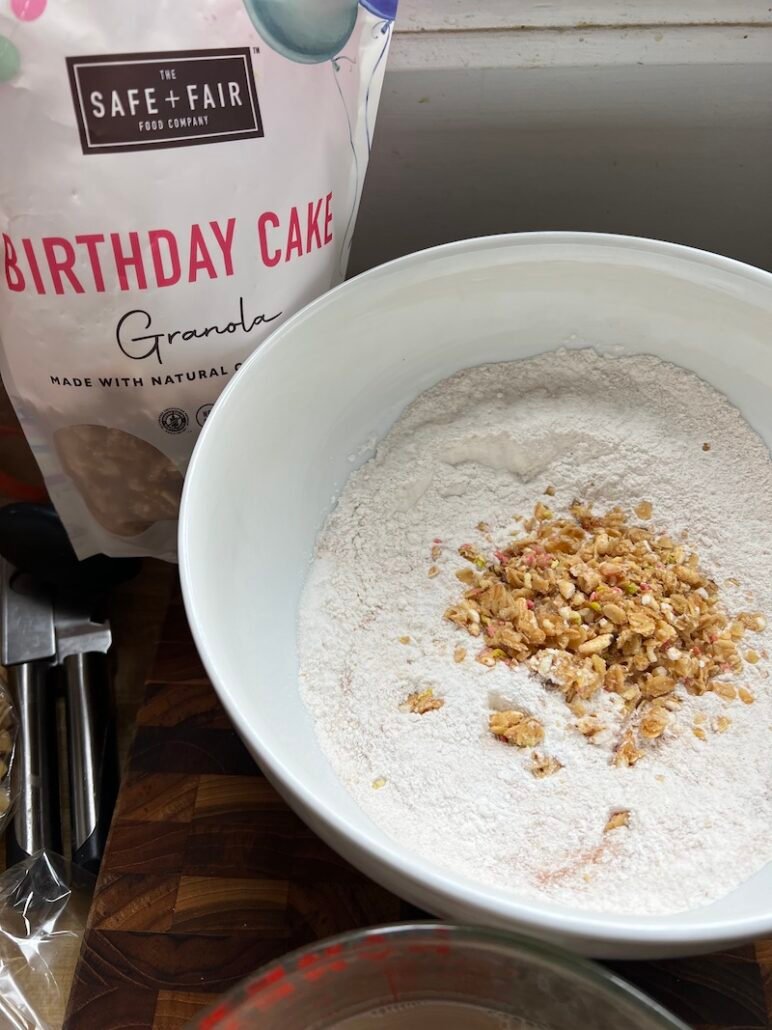 I bought my silicone donut pan online. It's really easy to get the donuts out after they cool. Fill about 3/4 full. I tapped the pan down a couple times too before baking to get out any air bubbles.
Cool completely in the donut pan. Then gently remove.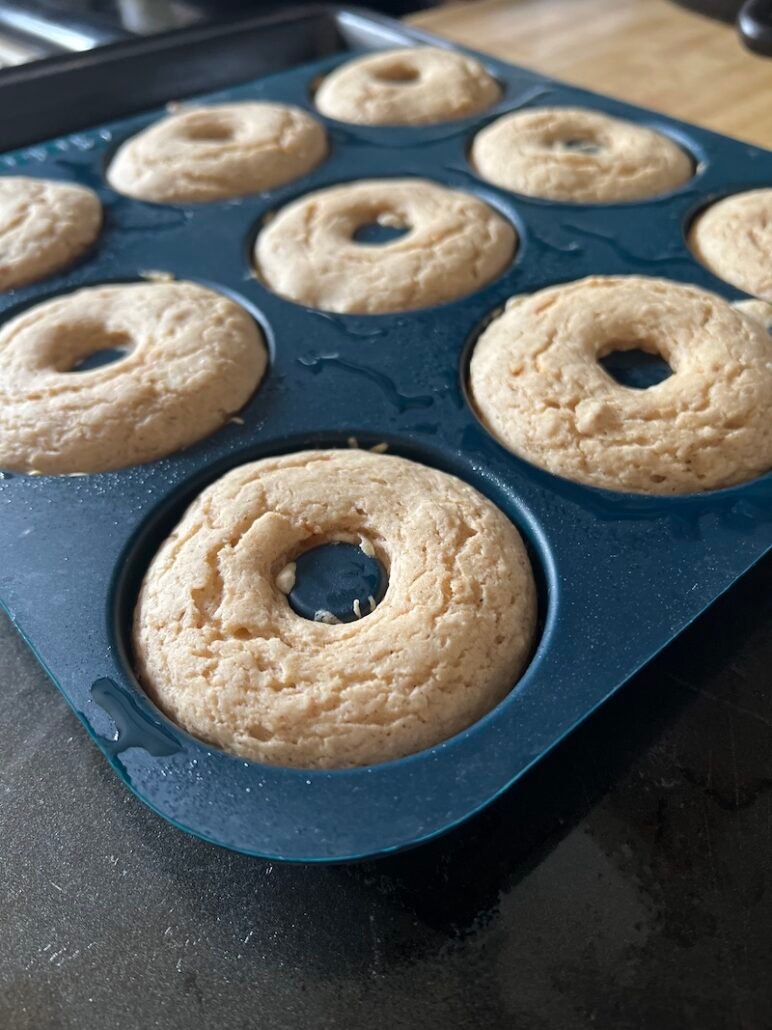 Birthday Cake Donuts
These light and fluffy birthday cake donuts are ready from start to finish in about 30 minutes. At 6 WW points, worth every point!
Ingredients
2 cups flour
1/2 cup sugar
2 teaspoons baking powder
1 teaspoon cinnamon
1/2 teaspoon salt
1.25 cups unsweetened cashew milk (or milk of choice)
1 tablespoon vinegar
1 large egg
1 teaspoon vanilla extract
1/2 cup + 2 tablespoons birthday cake granola
4 tablespoons sprinkles
1/2 cup powdered sugar
1.5 tablespoons cashew milk
Instructions
Heat oven to 350. Mix the milk and vinegar and set aside for 5 minutes.
In a large bowl, add the flour, sugar, baking powder, cinnamon. 1/2 cup granola and salt. Mix. Add the egg and vanilla extract to the milk mixture and whisk to combine the egg. Add the wet mixture to the dry mixture and stir just until combined.
Spray donut pan with avocado oil spray. Fill the donut pan about 3/4 full. Bake for 15-17 minutes. Cool.
Mix 2 tablespoons of the birthday cake granola with the sprinkles. Make the glaze. Dip the donuts into the glaze and then sprinkle with the granola mixture. Enjoy!
Nutrition Information:
Yield:

14
Serving Size:

1
Amount Per Serving:
Calories:

167
Total Fat:

3g
Saturated Fat:

0g
Trans Fat:

0g
Unsaturated Fat:

2g
Cholesterol:

15mg
Sodium:

158mg
Carbohydrates:

32g
Fiber:

1g
Sugar:

15g
Protein:

3g
For those of you who are new around here, I've been working with Safe + Fair for four years. It was the first long term brand partnership I had and started this whole new career for me at the age of 51. Working with them made me realize that I could ditch the day job that wasn't my passion (and hadn't been for many many years!) and put all my efforts into doing My Bizzy Kitchen full time. And now fast forward and I have my daughter Hannah working with me full time.
I am truly blessed. When we start off our day at the pool swimming and laughing I am reminded how grateful I am that I get to cook, film and share recipes as my job and not as my hobby.
Thank YOU for always stopping by to support me and Hannah. It means more to us than you'll ever know.
Hugs!
p.s. Don't forget to use my discount code Bizzy20 to save 20% off your order.